Annie Patterson
---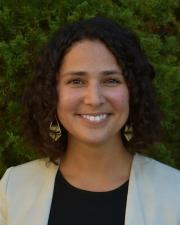 questioner. educator. music enthusiast.
Contact Info
Summerfield Hall, Room #206
Lawrence
1300 Sunnyside Ave
Lawrence, KS 66045
---
Biography
—
I serve as an assistant director/career coach overseeing the Educators and Helping Professions career community. This role entails a variety of responsibilities (e.g., leading presentations on career development topics, one-on-one coaching appointments, etc.), but my favorite part is helping students connect their values and passions to majors and careers.
When I'm not focused on career coaching, I like to engage with the world around me, whether that be through quality time with my partner, friends, and family or traveling to someplace new. Experiences shape you and play a crucial role in developing compassionate, well-rounded people who embrace diversity in all its forms. As a career coach, I hope to support you on your journey of discovery so that you leave the University prepared for what your future holds.
Education
—
B.S. in Elementary Education, University of Kansas, 2013, Lawrence KS
M.A. in Organizational Communication, University of Kansas, Lawrence KS
Expected Graduation in 2022