Deema Al-hihi
---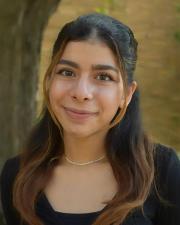 Social Media Marketing Intern
helper. creative. optimist.
Contact Info
Summerfield Hall, Room #206
Lawrence
1300 Sunnyside Ave
Lawrence, KS 66045
---
Biography
—
At the Career Center, I work as a social media marketing intern. My responsibilities include collaborating with the graphic design and photo/video interns on how to create content to promote events and Career Center resources, scheduling social media posts, keeping our social accounts active, and coming up with creative ideas for marketing our content on all social media platforms. My favorite part about the role is getting to approach projects given to me creatively, be a voice for the UCC online, and spend time with the other interns.
I am passionate about advocating for women in the media and having platforms to be creative and voice their opinions, which is why I enjoy being President of Her Campus KU! I write articles, create content, and lead our chapter members. My hobbies include reading, journaling, spending time with friends and family, trying matcha from different coffee shops, and listening to music!