Elise Patrick
---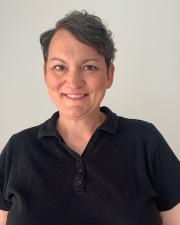 Administrative Assistant, Sr.
observer. supporter. animal behavior nerd.
Contact Info
Summerfield Hall, Room 203
1300 Sunnyside Ave
Lawrence, KS 66045
---
Biography
—
Hi, I'm Elise.  I am the Administrative Assistant, Sr. in Career & Experiential Learning.  I provide calendar and administrative support to the Assistant Vice Provost, manage office operations, and assist the Jayhawk Blueprint and Experiential Learning Certificate programs.  I'm also the Scheduling Officer for UNIV courses.  I've been at KU for about 15 years and know a little bit about a lot of things Jayhawk.
Education
—
B.A. in Sociology, Baker University, 1997, Baldwin City, KS
M.S. in Higher Education Administration, University of Kansas, 2010, Lawrence, KS
Creative Works
—
I moonlight as a Certified Professional Dog Trainer (CPDT) for a training company in Topeka, KS, where I teach group classes and private lessons.  I am the proud pet parent to rescue pups Millie (golden doodle) and Ralphie (chihuahua), and an undisclosed number of tuxedo cats.  When not tending to my pets I enjoy binge watching witty comedies or true crime documentaries and walking the trails at the Baker Wetlands.