Erin Murray
---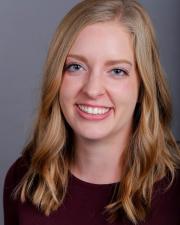 dog lover. sports fan. creative.
Contact Info
Summerfield Hall Room 206
Lawrence
1300 Sunnyside Avenue
Lawrence, KS 66045
---
Biography
—
Hello, I'm Erin! I'm a PhD Student in Counseling Psychology and I enjoy supporting students through their professional journey! Each of you has unique challenges you face when making career-related decisions, and I am excited to help you every step of the way. In my free time I enjoy painting, cooking, listening to podcasts, playing basketball or volleyball, and spending time with my rescue dog Atlas!
Education
—
Ph.D. in Counseling Psychology , University of Kansas
M.A. in Sport and Performance Psychology, University of Denver, 2019
B.S. in Psychology, Macalester College, 2016