Jamie Abrajan
---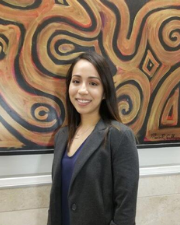 foodie. gym enthusiast. traveler.
Contact Info
Summerfield Hall, Room #206
Lawrence
1300 Sunnyside Ave
Lawrence, KS 66045
---
Biography
—
Hi name is Jamie Abrajan! I am from a small town in Nebraska. I am a graduate student at KU pursuing a Master's in School Psychology. I'm passionate about helping people and working with individuals by helping them unlock their potential and become successful. I enjoy working with individuals and getting to know who they are and learn more about their backgrounds and motivation. 
In my previous job, I helped individuals identify a new career direction, conduct an effective job search, and plan strategically for their careers. When I am not busy with work or school, I spend my free time cooking, reading, or working out. I also enjoy traveling and learning more about different cultures and food.
Education
—
M.S. in Psychology, University of Kansas