Michael Diana
---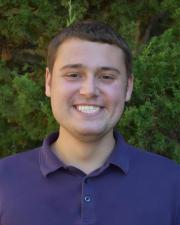 Optimist. Social Butterfly. Jolly Rancher Enthusiast.
Contact Info
Summerfield Hall, Room #206
Lawrence
1300 Sunnyside Ave
Lawrence, KS 66045
---
Biography
—
Hi everyone! My name is Michael Diana and I am a first year Doctoral Candidate in the Counseling Psychology program. I am from New Jersey and completed my undergraduate degree in Psychology at the University of Scranton (yes- like The Office)! I will be one of the Career Coaches this academic year!
I have previously worked in career counseling and I am looking forward to continue in the field. I am excited to assist you through your career journey as you learn more about yourself personally and professionally. When not studying or working, I enjoy spending time with family and friends, movie marathons, and anything involving the beach. I look forward to working with you!
Education
—
Ph.D. in Counseling Psychology, University of Kansas, Lawrence KS
B.S. in Psychology with a concentration in Human Development, University of Scranton, Scranton PA
Research
—
All previous research was conducted at the University of Scranton between 2017-2020.
With a clinical psychologist, I investigated African American parents attitudes towards behavior modification, rapport, academic and psychosocial development of individuals from diverse backgrounds. 
 
With an evolutionary psychologist, I studied male and female's dating strategies on Tinder. 
 
With a developmental psychologist, I explored the effects of death education on death anxiety. 
 
With a social psychologist, I investigated the cognitive spillover effect, in-group favoritism, out-group derogation, and social norms.
Awards & Honors
—
President's Fellowship for Summer Research, University of Scranton, 2019: I was awarded a grant to fund my honors thesis investigating the cognitive spillover effect. 
 
Landmark Conference Senior Scholar Athlete, 2020: I was the male student-athlete with the highest GPA and most sports accomplishments for all swimmers and divers in the Landmark Conference. 
 
Carlisemo Award, Excellence in Academics and Athletics, University of Scranton, 2020: An award given by the University of Scranton to the graduating senior who demonstrated excellence in both the classroom and athletics. 
 
Lawrence Lennon Award for Outstanding Service and Achievement in Psychology, University of Scranton, 2020: An award presented by the University of Scranton Psychology Department to the senior who demonstrated commitment to academics, extracurriculars, and the Psychology Department.