Nicholas Giesler
---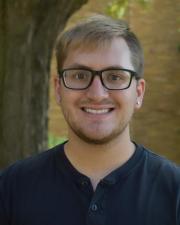 Easygoing. Reliable. Adventurous.
Contact Info
Summerfield Hall, Room #206
Lawrence
1300 Sunnyside Ave
Lawrence, KS 66045
---
Biography
—
I am a Career Center Specialist, I occupy the front desk, answer phone calls, emails, and in person questions. I schedule appointments along with checking them in as they get to the office. I review and post jobs, critique resumes, and update system information students and employers. My favorite part about my role is engaging with students and showing them all the Career Center had to offer.
My hobbies include hiking, reading, and spending time with friends. I am duel majoring in Economics and Political Science with a goal to eventually teach at the College level in those subjects. I am very interested in History, government, politics, and world economics and how it affects every day life. I hope to travel as much as possible and learn and experience cultures around the world. My favorite quote is "Education is the most powerful weapon which you can use to change the world" - Nelson Mandela.
Education
—
A.S., Saint Louis Community College, 2021, St. Louis