Rachel Davis
---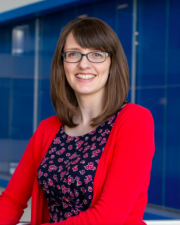 problem solver. pop culture geek. wordsmith.
Contact Info
Summerfield Hall Room 203
Lawrence
1300 Sunnyside Avenue
Lawrence, KS 66045
---
Biography
—
In my role as Assistant Director of Experiential Learning and Certificates at the University Career Center, I work with students to support them in the journey from college to career by helping them test out their interests beyond the classroom setting.
I manage and teach UNIV 120: Introduction to Engaged Learning, a new course in which we explore students' interests through hands-on experiences right on campus. I also coordinate KU's Experiential Learning Certificates, which offer a great opportunity for students to get official recognition for their experiences that complement or expand upon their major degree program.
My goal in working with students is to help them identify the right path for them. That means taking into account each individual's unique personality, values, skills, and interests and exploring how those things map onto a potential career.
Prior to my current role, I worked closely with students as a career coach both here at the University of Kansas, and at Louisiana State University.
Education
—
M.A. in Education, Louisiana State University
B.A. in English Literature, Webster University
Teaching
—
UNIV 120: Introduction to Engaged Learning 
 
LA&S 470: Job Search Skills for Liberal Arts & Science Students
Selected Presentations
—
2016, Co-presenter, Louisiana Association of Colleges & Employers Conference, Utilizing Employer Feedback to Enhance Student Learning
Service
—
2016-Present, Kansas Association of Colleges & Employers
2016, Louisiana Association of Colleges & Employers
2014-2016,National Academic Advising Association
Memberships
—
Kansas Association of Colleges & Employers (KACE) 
 
2016 Louisiana Association of Colleges & Employers 
 
2014-2016 National Academic Advising Association  
 
National Society For Experiential Education (NSEE)