Sam Fleming
---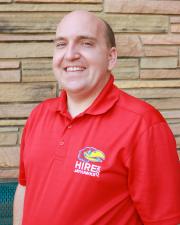 Career Coach
educator, innovator, musician
Contact Info
Summerfield Hall, Room 206
Lawrence
1300 Sunnyside Avenue
Lawrence, KS 66045
---
Biography
—
My name is Sam Fleming, and I am a career coach at the University Career Center. As a career coach I give students the tools they need to excel in their careers.
In addition to my work at the UCC, I am also a doctorate student in music at KU where I study Choral Conducting, Organ, and Church Music. Before coming to KU I taught music courses at the University of North Alabama and was the music director and organist for a large church. In my primary career field as a musician, I have learned many of the ins and outs of working in the arts as a freelancer, employee, and employer.
Whether you are in the arts, sciences, or any other field, come talk with me about your career goals, hopes, and dreams! I look forward to meeting with you soon!
Education
—
B.A. in Organ Performance and Music Composition, Brigham Young University, 2016
M.A. in Choral Conducting, Illinois State University, 2019