Tian Heinle
---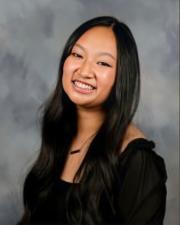 fun. passionate. energetic.
Contact Info
Summerfield Hall, Room #206
Lawrence
1300 Sunnyside Ave
Lawrence, KS 66045
---
Biography
—
Hello my name is Tian Heinle! Coming from St. Louis Missouri I am currently studying Applied Behavioral Sciences and Psychology. My favorite part of my job at the University Career Center is getting to interact with all the students at KU from diverse backgrounds and studies.
Education
—
B.S. in Applied Behavior Science and Psychology, University of Kansas, Lawrence KS
Awards & Honors
—
Valedictorian of high school - 2020 (#1 ranked in high school)
George Washington Carver Award - 2020 (Top 10% in class)
Missouri Bright Flight - 2020 (Extraordinary ACT accomplishments)
Honor Roll KU (both semesters 2020-21)
AP Scholar with Distinction 2020 - Granted to students who receive an average score of at least 3.5 on all AP Exams taken