Ann Hartley
---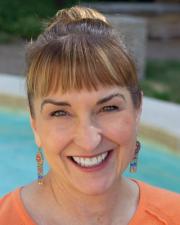 Associate Director
metaphysical explorer. tea lover. opera enthusiast.
She/her/hers
Contact Info
Summerfield Hall Room 203
Lawrence
1300 Sunnyside Avenue
Lawrence, KS 66045
---
Biography
—
Associate Director working with employer recruiting. I build relationships with employers and assist them with promoting their opportunities to KU students. I supervise the Career Center Specialist staff, and the YES Tutoring and Kansas Work Study programs.
Education
—
M.S. in Consumer Science and Housing, Colorado State University
B.S. in Consumer Affairs, University of Nebraska Lincoln
Specialization
2012, Strong Interest Inventory Certification, CPP
2011, Mental Health First Aid Training, Bert Nash-NCCBH
2011, Strengths Quest Training, Gallup
2009, Federal Advisor Training, Partnership for Public Service
2007, Student Employment Essentials Training, National Student Employment Association
2005, Myers Briggs Type Indicator Certification, Zeisset Associates
Teaching
—
University Career Center, University of Kansas, LA&S 470 Preparing for International Careers-London. Co-teach a course that provides students with a broader understanding of the different work cultures, economies and opportunities for international work. The course provides a week-long study abroad experience to London during spring break.
Selected Presentations
—
2013, Best Practices for Having a Successful Part-time Job Fair, National Student Employment Association Conference
2013, Student Employee of the Year Awards Program, Kansas Association of Colleges and Employers Conference
2009, Making the Most of Your Student Job, National Student Employment Association Conference
1998, Education Interview Day Online Sign-up System, Kansas Association of Colleges and Employers Conference
Awards & Honors
—
2009, University of Kansas Unclassified Non-Teaching Employee of the Month, October 
 
2003, 2009, Kansas Association of Colleges and Employers - Career Services Member of the Year 
 
1997, Wallace Galluzzi Volunteer Award for volunteering with Big Brothers/Big Sisters (for exceptional service to a United Way of Douglas County member agency)
Service
—
Kansas Association for Colleges and Employers
2008-2011, Treasurer
2005, Past-President
2004, President
2003, President Elect / Conference Planning Committee Chair
1993-1994, Board of Directors Career Services Representative
1998, 201-2003, Site Selection Committee Chair
2004-2005, Nominating Committee Chair
2004, Membership Committee Chair
2004, Nominating Committee Chair
1993, 2003-2004, 200-2011, 2014, Program Planning Committee
Rocky Mountain Association of Colleges and Employers
1998, Liberal Arts Committee
American Association for Employment in Education
1994-1997, Charter member Senate
1996, Senate Nominating Committee
1997, Ethics Committee
1991-1992, 1994, Job Search Handbook Editorial Committee
The University of Kansas
2011-Present, Student Employee of the Year Award Committee Chair
1992-1994, 2001-2002, KU Staff Development Committee
1991-1992, KU Student Affairs Publication Committee
1990-1992, KU Beach & Boulevard Committee Co-Chair
Community
1993-Present, Human Rights Committee, Cottonwood, Inc., Lawrence, KS
2007-Present, Friends of the Lawrence Public Library, Pricer and book sorter
1993-1998, Big Brothers/Big Sisters of Douglas County, Board Member
1994-1998, Big Brothers/Big Sisters of Douglas County, Secretary of the Executive Board
1988-1989, Delta Tau Sorority, Staff Sponsor, Midland College, Fremont, NE
Memberships
—
Jayhawk Society for Human Resource Management
Lawrence Chamber of Commerce
Midwest Association of Student Employment Administrators
National Student Employment Association
Kansas Association of Colleges and Employers
National Association of Colleges and Employers