Matthew Guiliano
---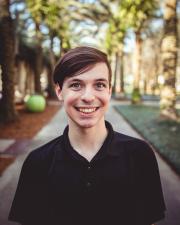 Career Coach
learner. helper. reader. optimist.
He/him/his
Contact Info
Summerfield Hall, Room #206
Lawrence
1300 Sunnyside Ave
Lawrence, KS 66045
---
Biography
—
Hello everyone! My name is Matthew Guiliano. My pronouns are he/him/his, and I am a first-year graduate student studying Higher Education Administration at KU. I recently graduated from the University of South Florida, studying Finance and minoring in Theatre. I have lived on the east coast for most of my life, living in Connecticut and then in Florida, and I can't wait to see what Kansas has in store!
My main ambitions include servant leadership and a willingness to learn that drives me to be a better person every day. I have a passion for learning about other people's backgrounds and perspectives while advocating for social change. I want to be the change that I see in the world!
During my free time, I love to read, watch documentaries, and go on long walks! I look forward to connecting with you!!