Wendy Shoemaker
---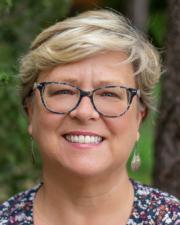 Director
optimist. map-gazer. catalyst.
She/her/hers
Contact Info
Summerfield Hall Room 203
Lawrence
1300 Sunnyside Avenue
Lawrence, KS 66045
---
Biography
—
Taking little steps now can lead to big outcomes later on. As the Program Director, I motivate people to do that every day. I lead a team of creative people who inspire KU students to experiment, connect and engage their career ideas. Career planning should involve experimentation and taking some risks, which can lead to "happy accidents". The best part of my job is the work I do helping faculty, staff and student leaders create innovative programs and opportunities that open doors and build life-long relationships.
Much of my free time is balanced between having fun with family and friends, spending time in the garden, and finishing up a doctorate in the Higher Education Leadership program. I bike to work most days and volunteer in the community teaching people about gardening and bike safety.
Education
—
Ed.D. in Education Administration, University of Kansas, 2022
M.A. in Education, University of Iowa, 2000
B.A. in Geography, University of Iowa
Memberships
—
National Association of Colleges and Employers (NACE)
National Career Development Association (NCDA)
Kansas Association of Colleges and Employers (KACE)